First Choice Hi Fi Tottenham 1983
Featuring: Charlie Brown, Ranking Toyan, Little John, Colonel Robbie, Yabby Youth, Billy Boyo.
Operator: Leo
North London's First Choice are in full effect on this tape. Charlie Brown rides the M16 rhythm very well giving a tour of London with his 'Spar with me and you know the City'. They play some Studio 1 classics including: 'Feel like jumping' & 'Never let go'. All the MC's on this tape really do work well over the rhythms. They drop a nice special from Jah Thomas 'First Choice are the dub champion'
Visiting supers, Little John, Ranking Toyan, Billy Boyo & Ranking Trevor are in the dance. We get to hear Little John, Toyan & Billy Boyo on the mic. Toyan gets the crowd bawling forward when he steps up on the Hi Fashion before handing over to Little John who 'sings the girl is mine'. Shame there is only a small portion of the late Billy Boyo, but very nice to hear him nicing up a UK dance.
A very fine UK session this, it's a pity we don't have any more First Choice tapes from this era...
Funkers Delight Acton 1990

Featuring: General Levy, Scratchy, Specky, Junior Dan, Sizzler…

Operator: Goldfinger

Mixer: Tipper

Acton's Funkers Delight are in session with big supe's General Levy and Junior Dan in attendance. A prime slice of 90's UK Sound System action. This session finishes with some funky selection…
Graphic Superpower vs. Java 1989

Featuring: Yardie Ranks

Operator: Tippa

This is the Graphic Superpower side from this clash against Java… Don't really know much about Graphic, I think they hailed from Stoke Newington…
Jah Revelation/Jah Love @ The Black Swan, 438 Stapleton Road, Easton, Bristol, U.K. 19th March 1999
Featuring: Brigadier Jerry, Freddie McGregor, Horace Andy
Selector – Cecil Reuben
"The Twelve Tribes of Israel Organisation presents a celebration of "Rasta Jubilee Chapter 1" held in Bristol in 1999. You get to hear the Tribes leading deejay Brigadier Jerry alongside a pair of Jamaican greats, Freddie McGregor and Horace Andy, running through some classics. Great to hear three bonafide legends working in a sound system style."
Maverick Hi Fi Leeds 1984

Featuring: Tippa Irie, Daddy Colonel, Keithy Dread, Daddy D,
Fluid Irie, Errol Price…

Next up is Maverick Hi Fi from Leeds. For this session, special guests are Saxon Studio's Tippa Irie and Daddy Colonel.
This is a fine example of UK Dancehall Business in the early 80's…
Merritone Hi Power St Anselems Hall, Southall 1986
Featuring: Daddy Dezzie, Winston Irie, Colonel Biggs, Papa Banton, Rootsman, Sticks,
Selector Banton
Operator: Daddy Wayne
We are not sure if this is the old Merritone sound from Greenford way but it is a lively mid 80's UK dance. Plenty of lyrics getting flung down by the MC's especially Winston Irie who really shines on this one.
One Love vs. Taurus & Coxsone London 1989

Featuring: Sweetie Irie, Commandant, Joe 90, Papa Scratchie,
Daddy Scoobey, Miss Irie…

Operator: Steve…

This is West London's, One Love side from this clash.
This was Joe 90's birthday night and him and old Java spar Sweetie Irie are under the liquor and even with the Police outside the dance, threatening to shut it off, they still mash it up…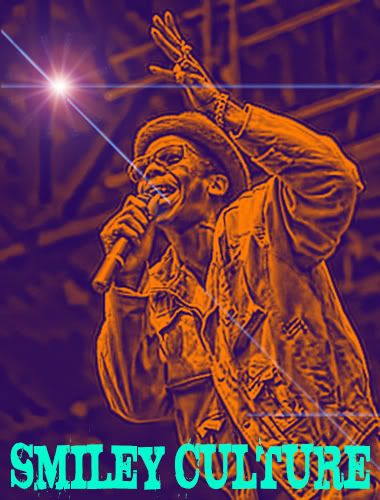 Sir Coxsone Outernational @ Bennetts Club, London, 1982

Bikey Dread, Duffus Irie, Wandan, Smiley Culture, Colonel Fluxy, Spider Ranks, Colonel Hinds

Selector – Blacka Dread

"Recorded in Bennetts Club, this is a fine Sir Coxsone session which has Blacka Dread running a varied selection ranging from Aswad and Derrick Lara through to big supas like Dennis Brown and Johnny Osbourne. A succession of Blacka's deejays work the mic with Bikey Dread, Duffus Irie and Wandan prominent throughout. Smiley Culture nices up things with "It A Fe Ram" and "Cain & Abel" before announcing that the touring Jah Love Muzik posse is in the house. Duly they are represented by Colonel Hinds aka Daddy Tushungpeng who steps up flashing lyrics like "Jamaica Proud A We" and "His Majesty" for the crowd."
A BIG THANK YOU TO OUR GOOD FRIEND SEAN FOR THIS ONE....
Sir Coxsone Outernational Studio 200 Balham 1983 ** Three Hours **

Featuring: Josey Wales, Ranking Toyan, Little John, Bikey Dread, Colonel Flux, Smiley Culture,
Papa Maestro, Ricky Ranking, Colonel Boogie, sugar Dread, Robin Hood, Duffus Irie...

This one is a classic Coxsone session featuring a whole heap of artists both visiting from Jamaica and homegrown UK. A great selection and top class performances from the mic men and there's three hours of it, so you cant really go wrong..................
Sir Coxsone Outernational Peoples Club, Paddington 7-3-1984
Featuring: Jah Screechie, Bikey Dread
Operator: Gappy Dread
This is a nice insight into the early warm up part of a Coxsone session in 1984 and it is straight from the master tape.
The first portion has Gappy playing some nice tunes before Jah Screechie & Bikey arrive around the control tower to start warming up the dancers in this great Praed Street venue. We even get a couple of funky tunes thrown in which Coxsone did tend to do. I remember being at a Coxsone dance in the Ace in Brixton in 1983 when they played 'All night long' by the Mary Jane Girls and it sounded fantastic being pushed through the old Coxsone machine....
Sir Coxsone Outernational vs Gemi Magic Stoke Newington 21-7-84
Featuring: Bikey Dread, Jah Screechy, Levi Roots, Duffus Irie
Operators: Blacka Dread, Gappy Crucial, Festus
A n ice session from Brixton's finest Sir Coxsone. Blacka drops some wicked Junior Reid special's including 'You could a run, run but Coxsone's gonna find you'. Coxsone regulars Bikey & Screechy ride the rhythms well but its Super duper Levi Roots that stars the show drawing a massive forward from the Stokey Posse as he sings over the Hi fashion rhythm. He gives us 'Shoulder move', 'the saddest day of my life' & 'it's too late baby' and you can hear the licking of wood all over the dance.
They then drop some Half Pint & Frankie Paul before finishing off with a special that Blacka calls 'The Burial of Saxon' one version mixed by Scientist then a next cut mixed at Tubby's studio by Professor.
Now added a further 2 parts thanks to our good friend Daddy Ruffhouse........
Sir Coxsone Outernational Balham 28-3-1986

Featuring: Supercat, Nicodemus, Jah Screechy....

Operator: Blacka Dread...

"This Sir Coxsone session in Balham acted as a warm up for visting supas Super Cat and Nicodemus and was recorded two days before the historical "Shock of the Century" dance at Jubilee Hall. Blacka Dread flings down almost pure Studio One and Apache Cat and Mr Fabulous can't fail to impress on classic riddims like these."

This one was very kindly donated by Uncle Fee
Sir Coxsone Outernational North London 1986

Featuring: Supercat, Nicodemus...

Operator: Blacka Dread & Gappy Dread...

This one features the mighty Sir Coxsone Outernational playing host to Nicodemus and Supercat when they where in the UK in 1986. The two DJ's ride rhythm after rhythm that Blacka and Gappy throw down and they are in top form for the North London Posse.....
Sir Coxsone vs Stereoclassic & Gemi Magic Warehouse Rockers, Dalston
22-6-86

Featuring: Frankie Paul, Nitty Gritty, Pinchers, Bikey Dread, Junior Frass, Daddy IP,
Monti Blind, Tenor Fly, Fathead, Jah Screechie...........


Selector: Muzic Head..........
A crystal clear recording of this wicked Coxsone session that features visiting JA supe's Frankie Paul, Pinchers & the late great Nitty Gritty..... Crucial stuff!!
Sir Coxsone Outernational @ 4 Aces Club, Dalston, London, circa January 1987
Featuring: Nitty Gritty, Junior Frost, Joe 90, Daddy IP, Fathead, Bikey Dread, Tenor Fly, Spliffington, Ranking Trevor,
Selector – Gappy Crucial
Mixer – Stevie Culture
"Recorded one cold Sunday night in January 1987 whilst Sir Coxsone had their weekly residency at the legendary 4 Aces Club in Dalston. Gappy Crucial's warming things up with a mix of JA and UK music from Pinchers, Don Angelo, Kenny Knots and Wayne Marshall. Junior Frost and Bikey Dread, who both deal with the hot topic of "Aids A Go Round", handle the lion's share of the duties with the help of Tenor Fly, Joe 90 and others. Respect is shown to guest Ranking Trevor who in turn salutes U.Roy on his cameo "Be True", much to the delight of the crowd. Nitty Gritty cameos too on "Archie Bella" , a reference to his previous name during his early days on the Black Star sound in August Town."
Sirena Hi Fi Hackney Downs Park 1985
Featuring: Philip Levi, Tipper Irie, Daddy Colonel, Miss Irie, Charjan, Riddler Banton, Miss Irie, Cinderella, Madler.
Sirena sound are playing in the open air for this session and special guests are the Saxon Posse so you know there is going to be lyrics galore....
Saxon Studio vs Sir Coxsone Peoples Club, Praed Street July 1984

Featuring: Tipper Irie, Daddy Colonel, Daddy Rusty, Daddy Sandy..........

Operator: Trevor Ranking...........
Saxon side only on this one.... A classic example of Saxon Studio live & direct in session...
Special request to Big Mikey Glamour....
Saxon vs Sir Coxsone Peoples Club, Praed Street, Paddington 18-1-85

Featuring for Saxon: Philip Levi, Tipper Irie, Daddy Colonel, Daddy Sandy,
Daddy Rusty.........

Featuring for Coxsone: Daddy IP, Jah Screechie, Levi Roots....

Bit of an unusual one this as it's taped through Saxons amps, but they recorded Coxsone through their mic...
This was the second meeting in a series of, I think 4 consecutive friday night clashes at the Peoples club between the two sounds.
Young Lion Hi Fi Bedford January 1981
Featuring: Ranking Tony, Negus Roots, Bob Hope, Errol, Dennis..
A real nice early Young Lion session this one. We think this one is against another sound in Bedford, but we are not 100% sure of which one. At one point one of the deejays talks about Ray Symbolic & Ranking Joe so it could well be one of the last dances of the Ray Symbolic tour. All that aside it is a killer session as they drop a good Rootsy selection from the likes of: Mighty Diamonds, The Viceroys, Noel Phillips, Barrington Levy, Earl 16, Eastwood & Saint and more. They drop a wicked I Roy steppers style dub-plate and all of the mc's give a good performance throughout the session.
Big thanks go out to Markie RDK for this great early 80's slice of UK sound system action...
Youth Promotion (uk) Warehouse Rockers, Dalston 14-3-86
Featuring: Johnny Clarke, Philip Frazer, Nicodemus, Supercat, Mr Spaulind, Teacher Ranks, Boy Blue, Skipper Ranks,
Bucky Ranking
Selector: Earl Minott
A corker of a session this one and all the better for a very rare sound system appearance from veteran singer, Mr Johnny Clarke! There are other visiting JA supes in Dalston and as usual, Mr Fabulous & the Wild Apache tear up the dance. Nice to hear big singers Philip Frazer & Mr Spaulind around the set too...
A great selection from Earl Minott and great performances from the UK DJ's make this a really enjoyable tape...
It's Johhny Clarke live & direct in the dance that make this one special for me.. "Weeping & moaning & gnashing of teeth" indeed!!
Youth Promotion (UK) v Papa Love @ Melon Road, Peckham, SE15, London, August 1987
Featuring: Skipper Ranking, Juckie, Buckey Ranks, Ricky Ranking, Colourman, Nitty Gritty, Mikey General, Colour Blue, Sister Brooklyn, Sister Bronx, Jesse James
Selectors – Earl Minott & Daddy Chemist
"A meeting of two sounds in Peckham brings together Papa Love and UK branch of Youth Promotion. The crowd including visitors from America, Danny Dread and Willie Haggart from the Black Roses crew, are all treated to a mix up of artists performing in an '87 style. Skipper Ranking orchestrates the early stages flashing lyrics like "Me Want Mi Lover" and "Run Come Gimme". Ricky Ranking comes with "Get Down Pon It" before making way for "startime namebrands", Colourman, Mikey General and Nitty Gritty. The latter's been a fixture on the London scene around this time, and his distinctive vocals can be heard on "Raggamuffin & Jumbo" and "So Dem Come, So Dem Go". Mikey General has followed a similar path and his dancehall adaptations of "Just The Two Of Us" and "Karma Chameleon" are typical of the man's style of that time. Now a UK resident, Colourman's deejaying really stands out from the pack and he's remained true to his scriptures, as portrayed in his "Bubbling Bible Man" and "Bible Knowledge" passages."
Youth Promotion UK v Unity @ Four Aces, Dalston, London, May 87
Featuring: Nitty Gritty, U Brown, Daddy Freddy, Colour Blue, Ricky Ranking, Robo Tullo, Danny Chemist
Selector - Danny Chemist
Another session from the UK division of the Promotion Sound and this one has Big JA supers, Nitty Gritty, veteran U Brown and fast mouthed Daddy Freddy in attendance. Representing the UK we have Colour Blue, Ricky Ranking and Robbo Tullo, Selector Danny Chemist even feels the vibes enough to hold the mic in this sound clash held in Dalston...